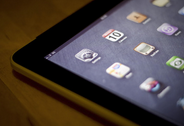 This guide serves as a reference for Goshen College iPad users. Here you'll find links to tutorials, suggested applications, and tools for learning and teaching.
Please let us know how you are using the iPad! Look for submission boxes throughout the guide.
Read more about the Goshen College iPad program on the GC website.
image: Creative Commons license JaredEarle